PRODUCT INFORMATION
| | |
| --- | --- |
| Name | Custom Body Pillow Cases Dakimakura Printing On Demand |
| Brand | animepillowshop.com |
| Fabric | Peach Skin/Smooth Knit/Natural Velvet/2way Tricot/Upgraded 2way Tricot |
| Size | 100*34cm, 120*40cm, 150*50cm, 160* 50cm, 170*60cm, 180*60cm |
| Pattern | Double Sides Printed |
| Package | OPP bags individually wrapped |
| Delivery | ePacket Normally 7-15 Working Days/DHL Normally 3-7 Working Days |
| Note | This is only pillow cover,not include inner pillow. |
Have a Favourite Anime Character? Crush Someone? Wanna have a custom made unique waifu or boyfriend body pillow?
We Can Help You! Exclusively Custom-Made Service for You!
This link is for body pillow printing on demand, If you need custom Dakimakura Commission, Please Click Here.
How to Custom:
Step 1. Find an image that is at least 1,417 x 4,251 pixels (larger the better quality)and 120 and above dpi (dots per inch). If image file size is too large for upload, please upload to servers such as dropbox, google drive, flickr, etc… and send us the image file URL path so we can download it directly via email [email protected] or at checkout.
Images should be in dimensions of ratio Height to Width: 3 to 1
(For 150 x 50cm Dakimakura). Image Mode: CMYK. Format: JPG
For front and back of each dakimakura, please separate into 2 photo upload
Recommend above 5MB file to ensure High Definition and no blurry result
Step 2. Rename image file to your name-front.jpg (for example joe-front.jpg and joe-back.jpg), then upload file in the above option.
Step 3. Once confirmed, place order here by Add to Cart. If you have more than 1 custom made, repeat steps 1 to 3 for each item.
Reference
If you cannot find, no worries you can check out the websites below and type in "dakimakura" or your anime character name in their search bar
(i) https://yande.re/ or
(ii) http://danbooru.donmai.us/posts?page=2&tags=dakimakura
(iii) http://i.ntere.st/c/20046519
Customers who bought the custom body pillow case, also bought inner pillow HERE
Custom Made FAQ
Q1. What if I have already created an order and have uploaded a low resolution photo?
A:
If designs uploaded are too low, we will notify customer to send a higher quality image
.
We do not print custom made orders which have low resolution photo. Once customer had already submitted the minimum size requirement, we will proceed with the production.
Q2.

How can I upload the imageif the file size is too big?
A. Proceed with the checkout process. Once done, please indicate your Order Number and send the front and back design to
[email protected]
If you have any questions about the size you want to custom and the picture resolution Pixel, you can also email us [email protected]
DAKIMAKURA COVER FABRIC

DAKIMAKURA MATERIAL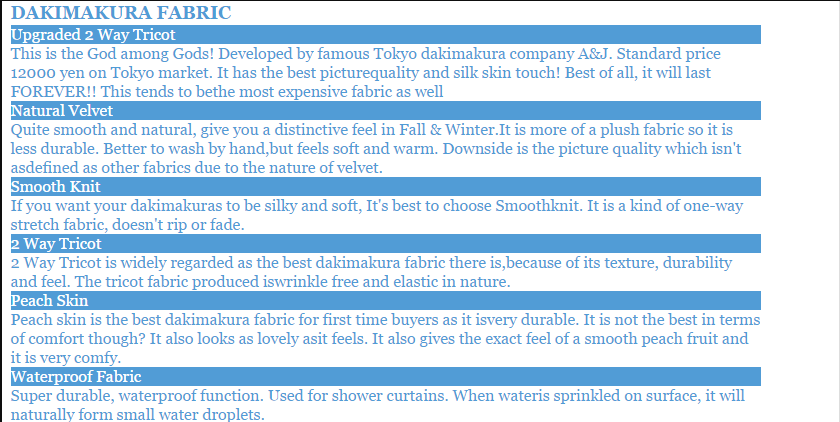 NOTE: THIS IS ONLY PILLOW COVER, NOT INLCUDE INNER PILLOW. Buy Inner Pillow Click here.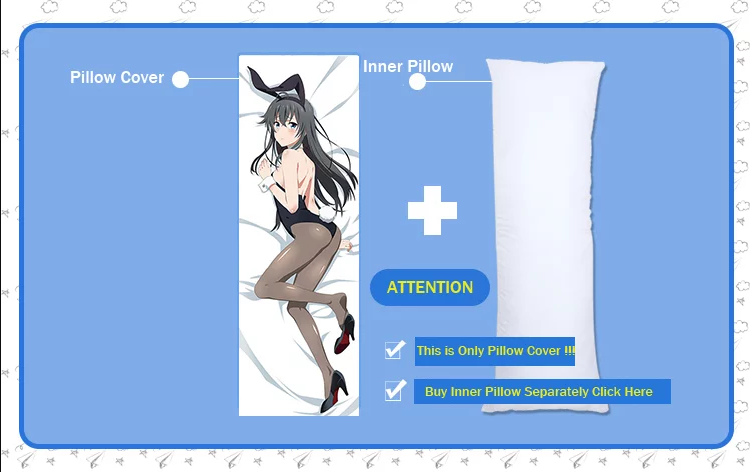 You Can Also Buy Our  Soft 3D Elastic Boobs with the Anime Pillow Cover, Inner Pillow Options Toghther to Get the Lifelike Companion.